Rapid Dynamic Compaction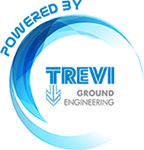 Rapid Dynamic Compaction (RCD) technique is a recently developed soil improvment tecnique, use for compaction of granular soils up to 5 m deep, as alternative to Dynamic Compaction method.
The RDC machine consists of a hydraulic excavator baase with a strenthened arm to which a compaction hammer is attached. The compaction energy is generated by the fall of a 12-16 ton hammer from height up to 1.2 m. The hammer falls on a compaction foot having a diameter ranging from 2.0 to 2.6 m, in contact with the ground and the energy is in turn trasferred to the ground.
The compaction of the subsoil is initiated by the vibrations generated by the impact of the weight upon the foot, and by the movement of the foot into the ground pushing the material into a denser structure. RDC tecniques generated limited vibrations comparing to Dynamic Compaction technique and thus can be used close to existing structures.