Dynamic Compaction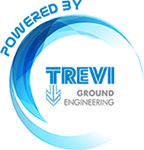 Dynamic Compaction (DC) is a Ground Modification technique whereby loose soils can be effectively and economically densified to improve its mechanical characteristics and allow construction of different types of structures without need of deep foundations or soil replacement. The method involves dropping a heavy steel pounders repeatedly on the ground at regularly spaced intervals. The weight and height of pounding depends on the degree of compaction desired. The usual range of pounder is between 12 ton to 25 ton and the drop height can be up to 25 m.
Dynamic Compaction method is applicable for a wide variety of soil conditions including saturated/unsaturated loose Sands, even with the presence of silty pockets, dune sands, inorganic fill, reclaimed soils with variable characteristics and sizes even with the presence of large sized boulders, landfills deposits and collapsible soils. It has been extensively used to compact loose soils to depths of up to 10 m, in order to increase the bearing capacity, decrease post construction settlement and mitigate liquefaction risk in case of seismic events.
Dynamic Compaction can be safely executed as close as 30-50 m from existing/under construction structures or concrete/civil works, without generating any undesirable vibrations. Special measures may also be taken to further reduce this distance such as decreasing the compaction energy or creating a surface trench to cutoff the propagation of surface waves created by the pounder impact.

ADVANTAGES

• Applicable for wide range of soils with fines content up to 35%, down to significant depths up to 10 m
• DC is the fastest soil improvement method (more than 30,000 sqm/crane/shift/month)
• Well adapted to large scale projects
• Increases the bearing capacity of soils, reduces the post-construction settlements and eliminates the risk of liquefaction in case of seismic events
• With a global treatment of the ground, DC works can be undertaken ahead of the foundation design
• Very sustainable technique: no disposal, no cement, no aggregate...