Dynamic Replacement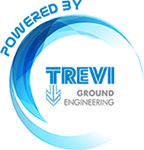 Dynamic Replacement (DR) technique is an extension of Dynamic Compaction to compressible soils (such as soft clays,silt, sabkha ...) where a large diameter columns (up to 2.5 m diameter) of very dense granular materials are constructed by dropping heavy pounders from great heights into the soft soil.
Dynamic Replacement technique can be implemented as a global treatment or localized under foundations only in order to increase the soil bearing capacity and reduce the total and differential post-construction settlements.
This method combines the advantages from both Dynamic Compaction and Stone Columns technologies by creating large sized Dynamic Columns with high stiffness and internal shear resistance and overall improvement of mechanical characteristics of the intermediate soil.
A large variety of readily available granular materials may be used for construction of the DR columns. Clean well graded sands may be the most suitable, however, other sources such as dune sands, gravel/sand mix, concrete rubble/crushed gravel mixed with sand etc. may also be successfully used.

ADVANTAGES
• Applicable for wide range of soils down to significant depths up to 8 m
• Very fast production (more than 15,000 sqm/crane/shift/month)
• Well adapted to large scale projects
• Very flexible specifications for backfilling material
• DR method is suited for very soft soils such as sabkha, peat and soils with high organic content
• Speed-up the consolidation of soft clays due to potential drainage through DR columns