The Dubai Electricity & Water Authority is committed to achieving the strategic objectives of the Dubai Integrated Energy strategy 2030 and Dubai Clean Energy Strategy 2050. In order to achieve this goal DEWA aims to increase the share of power generation from clean sources.
As part of this vision, DEWA is currently engaged in the construction of a Pumped Storage Hydro Power Plant at Hatta, a grooming tourist center, situated in the emirate of Dubai, 140 KM to the south-east of Dubai city.
Swissboring Overseas Piling Corporation has been involved by the main contractor M/S STRABAG -OZKAR JV in this project that shall consist of a hydroelectric scheme including:
· The existing Sadd Hatta Al Awwal dam as a lower reservoir,
· An upper reservoir created by building two new dams,
· A powerhouse hosting two generating/pumping units,
· Waterways between the 2 lakes and the units,
· Pumped Storage 132 kV Substation,
· Access roads or tunnels,
On February 2021 Swissboring has been entrusted to perform the drilling and grouting for grout curtains and associated drilling for the instrumentation part along with the in-situ permeability tests.
The scope of works is inclusive of but not limited to:
· Drilling and grouting of holes for the grout curtain, up to the design depth and according to the required pressure all in conformity and compliance with the contract documents, drawings, specifications and other applicable codes and standards.
· The GIN (Grouting Intensity Number) method for rock masses grouting should be used for the grouting operations.
· Curtain grouting shall be done from the upstream plinth, gallery, bank and the crest.
· Drilling for the drainage holes from the gallery and in the crest.
· Drilling for the Instrumentation purposes for piezometer and pendulum works.
· Core drilling was mainly performed in all the exploratory holes allocated in the Crest, Gallery, Plinth and the left and right banks.
The grout curtain holes were extended from primary, secondary, tertiary, quaternary, and quinary, before moving to the check holes. All these holes except the check holes have been completed with the destructive drilling.
The approved grout mixes are shown below: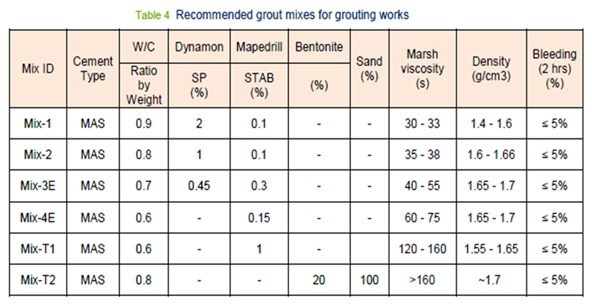 Swissboring has so far completed approximately 17125 m of drilling, 1037 lugeon test and 1275 m3 of grout in the Saddle dam drilling and grouting campaign.
The drilling and grouting campaign have been commenced with 3no. Soilmec drill rigs (PSM-8, SM-8 and SM-14), with the gradual increase of up to 9 no. drill rigs in the peak period. Inside the Gallery, the head room limitations and logistic constraints were managed by small drill rigs.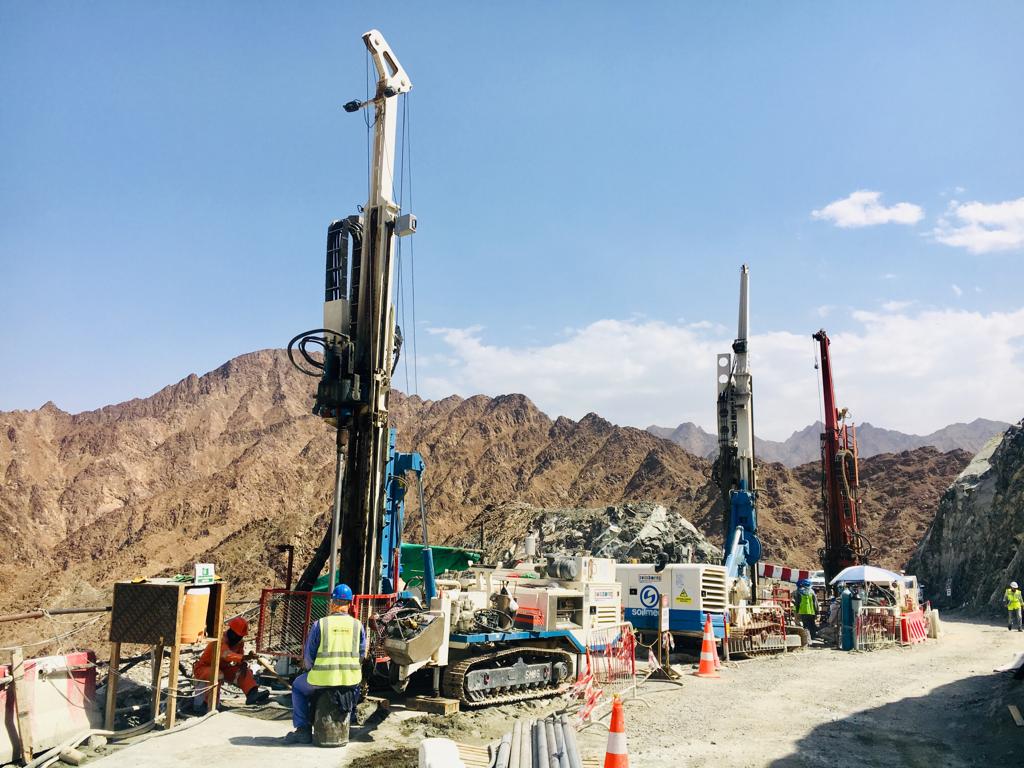 4 no. Grouting plants were used on this project. Each grouting unit comprises of 1no. high speed mixer, agitator and ELENA grout injector.
All grouting operations were managed by using grout recorders.